Click image for clear picture.


One of the most preferred colour among men.Black.It suits a professional and charismatic person.Combine with a stylish design,it makes the shirt the best chosen.
SHIFT YOUR PARADIGM.
Not just a words.It already stated by ALLAH,our only God, in Al-Furqan,the differentiator, :
Sahih International
For each one are successive [angels] before and behind him who protect him by the decree of Allah . Indeed, Allah will not change the condition of a people until they change what is in themselves. And when Allah intends for a people ill, there is no repelling it. And there is not for them besides Him any patron.
Shift not just your style but also your mind and your action to be the best Muslim and Mu'min.
This design had been created,hoping that we can shift our paradigm together.So that,we can show the trueness and greatness of ISLAM.
Thanks for watching our design.If it catch your heart,don't be ashamed to contact us.
Assalamualaikum.
Our facebook
About Us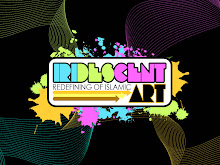 Iridescent-art

Selangor, Malaysia
Assalamualaikum.. We are a company which provide to you a lot of choices to fullfill our religion,ISLAM,laws regarding fashions and styles. We also provide designing and printing services.Any question please contact us at Facebook:IRIDESCENT ART page or using email:iridescent_art@yahoo.com
View my complete profile
Price List For Our Products
Muslim T-Shirt
Short Sleeves Edition : RM 23.oo
Long Sleeves Edition(Black & White only) : RM 26.00
Not including delivering fees.
For special price,please contact us to
be an Agent (20 pieces and above)
......................................................
For designing,printing and other services you must contact us.
019-5450294(Hapiz)
Ask Us Anything
Iridescent & Transformers 3